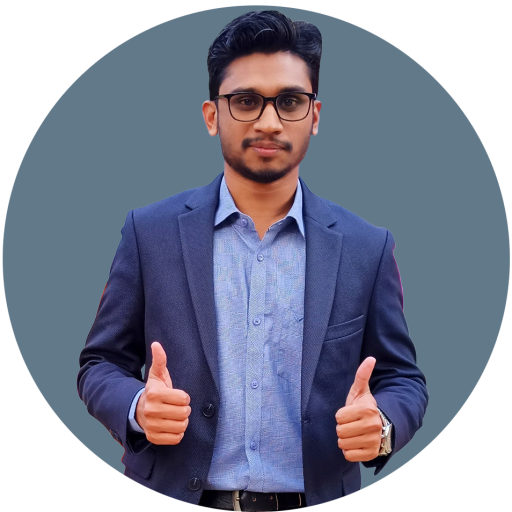 WordPress Security & SEO Expert
Are you in dire need of an SEO Expert or WordPress Security Expert who promises results and delivers? You have come to the right place!
Our Agency Founder, Md. AI Amin, is an experienced and capable SEO and WordPress security expert. He started off as a freelancer and has dedicated over 20 years of his life to SEO and WordPress security, helping businesses rank high on SERPs and stay safe online. 
What motivated AI Amin to start this online SEO and WordPress security agency? Md. AI Amin believes anything worth doing is worth doing well (the words of Philip Stanhope). He has encountered several clients complaining about hiring online SEO agencies that promise results but deliver little or nothing. Md. AI Amin wants to change that and help online businesses achieve success. Besides years of experience, AI Amin keeps bolstering his knowledge and has certification from industry-leading platforms such as Google, Udemy, SEMrush, LinkedIn, Mongools, and Yoast Academy to prove it. 
Md. AI Amin wants to help as many businesses he encounters to not only stay secure from hackers, but improve ranking, traffic, reputation, brand awareness and revenue. Statistics show that the first page receives over 92% of web traffic. 




"SEO With Al Amin" offers services tailored to help your website succeed online. As a WordPress Security & SEO Experts Team, we offer the Best SEO, Guest Posting, Content Writing, WordPress Security Services, Technical SEO, WordPress Speed Optimization, Creates WordPress Magazine Websites, Cloudflare CDN Setup, Google AMP Setup for WordPress, Google Webmaster Setup & Fix All Major Errors; Google Instant Indexing Setup by Google Cloud API; Google Analytics Setup & Fix All Error; Migrating WordPress Website; Affiliate Marketing; Google Adsense Setupand other WordPress related Services.
Technical SEO
Free Support
Google Search Console Setup

Google Analytics

Yoast SEO Setup

Robots.txt

XML Sitemap

Error Remove

Index Optimization

Delivery Time: 7 Days
WP Speed UP
1 Year Free Support
Database Optimization

Code Minification

Photo Resizing

Enable compression

Premium WP Rocket

Cloudflare CDN Setup

WP Version Upgrade

Delivery Time: 7 Days
WP Security
1 Year Free Support
Security Patch Install

Website Backup

SSL Encryption

WP Version Upgrade to Latest

DDoS Protection

Strong Firewall

Anti-Malware Security

Delivery Time: 4 Days
GFast Indexing
Free Support
Google API Key Setup

Google Webmaster

Google Indexing

Compatible Plugins Installation

URLs Submission

Update Post

Current Post Status

Delivery Time: 3 Days
WP Migration
Free Support
Website Backup

Website Transfer

Update and Redirect Domain

Google Cloud Backup

Files Migration

Fast DNS Update

Database Migration

Delivery Time: 7 Days
Guest Posting
Free Support
1 Guest Post : 100$

2 Guest Post : 200$

3 Guest Post : 300$

Free Article

High DA Website

Good Traffic

Do Follow Backlink

Delivery Time: 10 Days
Monthly SEO
For Blog or Affiliate Website
Keyword Research

Article Writing

Article Publish

Blog Article: 35$

Affiliate Article: 70$

Guest Post Backlink

Other Backlinking

Delivery Time: 30 Days
Monthy SEO
For Local Business Website
Keyword Research

On Page SEO

Map Citation

Directory Submission

Local Citaion

Social Bookmarking

Guest Post Backlink

Delivery Time: 30 Days
Exceptional SEO work, Al Amin! You've brought my website to the top of search results. I'm extremely impressed. The increase of traffic and visibility have significantly boosted my business. Highly recommended for anyone seeking top-notch SEO services.
Great services provided.
Highly impressed with SEO With Al Amin! Their impeccable SEO work has boosted my website's visibility and organic traffic. Amin and his team's dedication to driving results is evident in their strategic approach. For anyone seeking impactful SEO solutions, look no further. A reliable partner on the digital journey.
Frequently Asked Questions
1: What is SEO?
SEO means "search engine optimization." It implies improving your website to improve its visibility on search engines such as Google, Bing, Yahoo, and others. 
The main goal of every business is to get on the front page of search engines. 92% of web traffic goes to websites that appear on the first page. The second page receives around 6% of website traffic. So, if you want more clicks, you must improve ranking. 
With proper SEO practice, your website ranking can improve, making it easier for potential customers and audience to find you when they search for the services you render, products you sell, or topics you have expertise on. People will find your website when they use the keywords you target in your content. 
Two types of SEO exist; On-page and Off-page. The On-page SEO involves everything you do on your page to improve website visibility on search engines, while the second is Off-page SEO, such as guest posting, niche editing, etc. Off-page SEO involves things done outside your website to improve the site's visibility in search engines. 
2: Does my WordPress website need SEO?
Your website needs SEO to improve its visibility on search engines. Proper SEO practice, with the right keyword targeted, will help your website rank high in search engines and make it easier for prospects to find you. 
So, your website needs search engine optimization. In addition, note that SEO isn't a one-off strategy. You must continue optimizing your content and following best SEO practices to remain at the top. 
When we say the top, we mean the first page of search engine results and top positions. It takes a lot of work, dedication, and knowledge in SEO to achieve such, especially for highly competitive keywords. But if you have an SEO expert like Md. AI Amin handling your site's optimization projects, you'll achieve your goals quickly. 
So, every website needs SEO, whether new or existing. You need SEO to keep your website ahead of your competitors and make it easier for potential clients or audiences to find you online. 
3: Once I start SEO, how long will it take to get a ranking?
Understand that SEO is not an overnight strategy. In other words, you won't start SEO results overnight. But with dedication and focus on the best SEO practices, you can start seeing results in no time. 
Ideally, the first process involves updating your site and doing all the on-page SEO. After that, we will wait for Google Spiders to crawl the site and index the changes made. This process might take a while, and it's up to Google to decide how long. 
Depending on the nature of your website, and the frequency of Google spiders' crawling, you may start seeing the results around 3-9 months. But the good thing here is that a good SEO foundation to build on has been laid. All you need to do is to continue following best SEO practices to stay ahead of your competitors for targeted keywords. 
SEO isn't a one-off affair. To stay ahead, you must follow best SEO practices and continue doing things that help move you to the first page of search engines. And when there is a new algorithm update, you must determine how it affects your website and do what's necessary to reclaim you're your position in SERPs.  
On the other hand, SEO is time-consuming and comprehensive. But the good thing is you don't have to worry about SEO when you hire a top-rated WordPress SEO expert like Md. AI Amin. He specializes in helping new and existing websites rank on SERPs. 
4: How long do I have to wait to see an increase in traffic with SEO?
That is an excellent question! Now, keep in mind that an increase in organic traffic to a website occurs with an increase in website ranking. You'll receive more traffic on the first page of search engine results than on the second and third pages.
So, if your website ranking increases, traffic will also increase. However, an increase in website ranking does not happen overnight. The site must be updated, and then we must wait for Google to index the update. 
It takes a few weeks to months to complete website updates and get them indexed before you can see an increase in ranking and traffic. 
5: Can you rank my website for general terms like "car dealership?"
We wouldn't suggest you start an SEO project to rank for such a keyword. Why? Firstly, it's a general or common term with a higher search volume. Unfortunately, you can expect such a keyword to be highly competitive. Thus, ranking may take far too much time and money to achieve. 
The best advice to rank your car dealership business is to use longtail keywords and focus on the region your business is in (if you want to target customers around your location). If you have your business in Texas, terms like "car dealership in Texas" would generate far better result. 
6: How secure is WordPress?
WordPress is pretty much secure. That's the short answer. The long answer: WordPress sites may face some security issues. 
Over 43% of websites (810 million) use WordPress, so the fact that it is the most popular CMS makes it a sitting duck for hackers to attack. Another reason WordPress websites may face security challenges is the long list of unreliable and unchecked plugins, themes, widgets, and features installed in websites. 
So, WordPress websites are not immune to security challenges. And have in mind that hackers can strike at any time. They always look for ways to bypass websites' security protocols to hack websites. 
We advise all website owners to find a security expert that can keep an eye on their sites 24/7. Your security expert will stop hackers in their tracks before they try to break in and completely take over your website. 
Md. AI Amin is not just a WordPress SEO Expert. He is a seasoned WordPress security expert. He will help to secure your WordPress site, keep hackers at away.
7: As a WordPress Security Expert, why Al Amin's service is Different?
We take the security of our clients' WordPress website seriously. We monitor our clients' websites 24/7, allowing us to respond swiftly to any security notification we receive. 
We are always on hand to fix your website security challenges and react when things go wrong. A secured website is a successful website. You can only care about SEO when your website is secured.
We have worked tirelessly to assemble a team of WordPress security experts capable of delivering industry-standard security services. We took this step to ensure our clients get the best security services for their WordPress sites. 
So make your website secured! Hire an expert in WordPress security to do the job.    
8: Do I need to improve website speed for SEO?
Website speed is one of the Google ranking factors. It directly affects user experience, so Google considers it to be vital when ranking sites. 
On the other hand, a slow website will receive less traffic. Many Visitors will prefer to visit your competitor, whose website loads faster than wait for yours to load. 
Your website should load as fast as possible (1-2 seconds). 53% of mobile site visitors abandon sites that take 3 seconds to load. 2 seconds delay in loading can lead to an abandonment rate of over 87%. 
People develop negative views towards sites that take longer time to load. They view the owner as unprofessional and unserious. 
So, if you want to improve your reputation, ranking, and traffic, improve your website speed. You can contact us to help assess your website load speed to identify steps to take to ensure it starts loading faster. 
9: What is a bad website load speed?
You can determine a bad or good website load speed by how long the site takes to load. A website that loads under 2.5 seconds is good, 2.5-4 seconds requires improvement, while over 4 seconds is bad. 
According to Google, websites' content must have near imperceptible load time. In other words, one click and visitors are already viewing your content. That is how fast Google wants your site to load.
10: What is a website speed score?
The speed score tells you all you need to know about your website's load speed. A score of 90 and above is good, 50-89 requires improvement, while below 50 is poor.